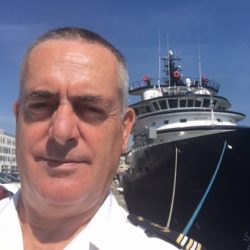 CF (R) Jean-Michel KERGOAT
Recrutement Officiers Cyber
Service de Recrutement de la Marine Nationale
LCDR Jean-Michel Kergoat was enlisted as a crewman in the French Navy in 1974. He was commissioned as an "International Relationship" officer in 2000. 

Lt Cdr Jean-Michel Kergoat has had a wide range of experience in multinational operations including participation in peacekeeping operations, exercises and serving as a staffer in joint service. Apart from spending 17 years at sea, LCDR Jean Michel also participated in peacekeeping operations in Lebanon, the Balkans, Africa and the Gulf. He served in the NATO Staff in Portugal as Second Officer of the French Military Mission (MMF COM JCLISBON – NATO CSSI) (2004-2007). His last assignment was J3 Staff Officer at Inter-Army Joint Staff – Operations and Training (EMIA-FE) during which he was deployed in Chad (2008) as part of the EU forces. He also served as a member of the EU Staff between 2007 and 2009. The officer is also a qualified Communication Information Systems (National and International), Info management and NATO CBRN/ FP expert.
LCDR Kergoat is graduated on: "International Law and development Economy"; "Critical Analysis and technological intelligence"; "Defence and Security".
Since 2014, he serve as "Operational Reservist", in charge of the creation, development and implementation of the Regional Maritime Information Fusion Centre (CRFIM) in Madagascar (AfOA-OI & IOC countries).
Staff officer of the SRM Vincennes since 2017, the LCDR Kergoat is in charge of the recruitment of the Navy Cyber officers.